With hundreds of board games out there – from two player games to big party games – you'd think there would be no end to all the new games to try during board game night. Yet there are a handful of games that seem to always find their way into the lineup every time.
We've compiled five of the worst offenders here to call them out for their overrated board game status. These are the games that cause serious boardgamers to let out a collective groan every time someone suggests playing them.
Of course, keep in mind this post is just for fun. If you like playing these games with your friends, that's great! Other peoples' opinions shouldn't influence your enjoyment of something.
With that said, let's dive into things and start with our first overrated board game.
5. Coup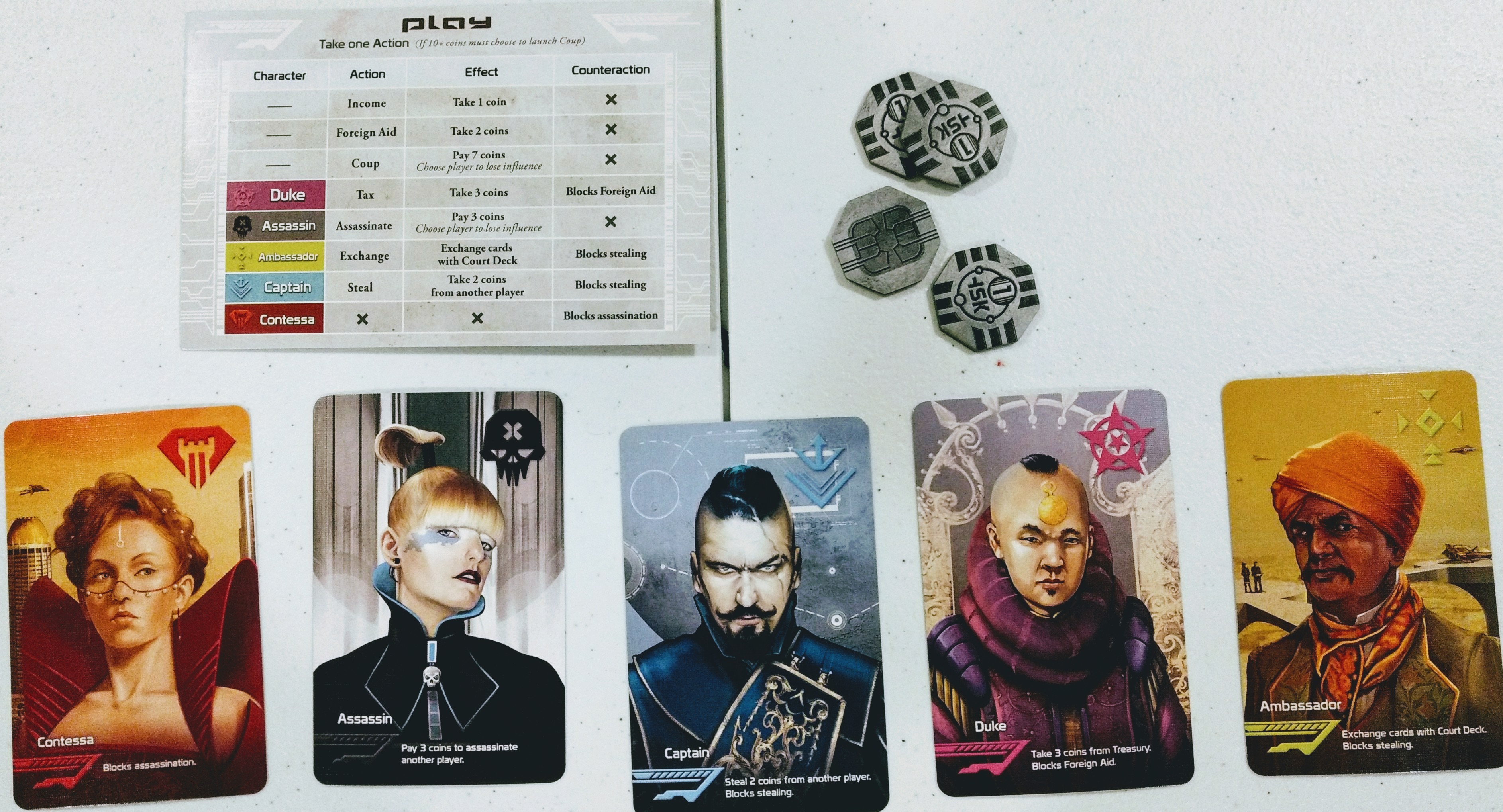 Coup receives a lot of praise as a social deduction and bluffing game, but it's one of my least favorite games.
When you lose both your roles, you are eliminated from the game. So dock points for player elimination, but it's not a huge deal as Coup games tend to be pretty quick.
The bigger problem in Coup is the kingmaker scenario which invariably happens. This is when the game whittles down to three players and one player cannot win herself, but can determine the winner of the game by her actions. Whoever reaches 10 coins first and has to Coup essentially loses the game, because regardless who they kill, the remaining player will simply kill them next. The game's result is often a coin flip.
Another flaw in Coup is that in a game that supposedly rewards bluffing, Coup is extremely punishing if you do get caught. Losing half your lives puts you at a massive disadvantage and essentially makes the game unwinnable for you, particularly if you've lost that life in the early game.
At the same time, the reward for catching someone bluffing – the bluffer losing a role – isn't enough to justify the risk of potentially losing a role of your own for being wrong. If you're right, you essentially share in the reward with the other players who did nothing but are now in a slightly better position. If you're wrong, you burden the entire loss yourself. It's simply better to be a freeloader.
Thus the meta in many groups becomes to play as honestly as possible and wait for someone else to screw up first. In general, the most optimal way to play Coup to ensure victory is to do as little as possible. Stay under the radar, don't draw attention to yourself, don't challenge others, don't bluff, and try to stay out of conflict until you make it to 3 players.
Games to try instead of Coup:
4. Bang!
Like Coup, Bang is another social deception game that has become quite popular as a party game.
Unfortunately, Bang is mired with a few problems. The first is that the game involves player elimination. It's not uncommon for someone to be eliminated before they've even had their first turn – which would be frustrating by itself, but is compounded by the fact that games in Bang tend to drag on for quite a while.
Games can easily last an hour if you play with 6+ players. This is especially true if there are new players to the game who have to learn what each card does.
Bang is also heavily luck-based. You can have perfect deduction and play optimally yet still lose if you simply don't draw the right combination of offensive, defensive, and attack cards.
The deduction element of the game is fairly trivial. Factions are usually clear within the first couple rounds, at which point it becomes a game of which team can simply nab the better guns and items.
Games to try instead of Bang: 
3. Cards Against Humanity
Cards Against Humanity might be fun the first time you play it because of the novelty and shock value, but after that the game just falls flat and becomes far too repetitive. Once you've seen the cards, the game quickly loses a lot of its appeal.
In most groups, the game boils down to who happens to have the most outrageous, raunchiest card in their hand. Answering a question with proper context matters less than shock value.
There's simply no real meat behind the game. Which is the point, I suppose, but the game is meant to be the appetizer of game night, not the main course. Unfortunately I've participated in too many game nights where CAH ends up being all anyone wants to play.
For some reason, Cards Against Humanity is now one of the most popular board games ever. And that means it surely deserves to be in this overrated list.
Games to try instead of Cards Against Humanity: 
2. Exploding Kittens
Exploding Kittens was the most-backed project on Kickstarter at the time and has become one of the most popular board games. I'll admit I was one of those backers, but after playing just two rounds of the game was left highly disappointed.
Like Cards Against Humanity, the only real entertainment the game provides is in the first playthrough, when the cards are a novelty. Once you've seen the artwork and funny phrases, you realize there's nothing to the game. There's no strategy, no thinking, and even the "tension" with the bombs feels meaningless.
Even as a filler game, there are simply other games you're better off playing.
Games to try instead of Exploding Kittens: 
1. Settlers of Catan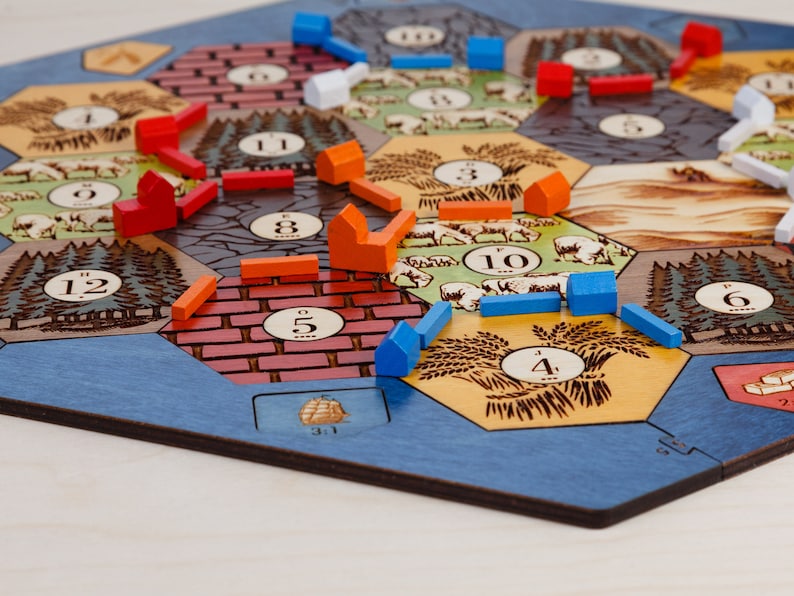 There is a lot to praise The Settlers of Catan for. It introduced a generation of casual boardgamers to Euro style board games. For many people, Catan was probably their first board game they tried outside of Risk, Scrabble, or Monopoly. The game is easy enough to learn and has just enough novelty to it to keep you entertained on your weekly board game nights.
The problem is Catan is essentially a luck-based game with very little decision making required from players. The only meaningful decision you make in the entire game happens at the very start, where you decide where to place your settlements.
This one decision is the biggest influencer on the outcome of the game – and even this decision becomes trivial after a few plays, as everyone vies for the same highest probability spots. After this, the rest of the game boils down to passing and rolling a pair of dice around the table for a long time before the game ends.
What about the trading mechanism, you argue? At first glance, trading may seem like an option to balance things out and provide some political strategy to the game. But you soon realize that accepting a trade on another player's turn is almost always a losing proposition.
That player gets the advantage of acting right away, usually resulting in a built settlement or city, blocking your path, or outright winning the game. It doesn't take long for players to realize this, so they stop trading with each other entirely.
It's not uncommon for there to be zero trades in a 45-60 minute game of Catan with experienced players. At this point, the social aspect of the game is all but gone and you are again relegated to rolling a pair of dice around. When you don't have enough resources to make a move, as is so often the case, you pass your turn.
Catan can also lead to players feeling bitter and upset due to the adversarial nature of the game. I'm sure we've all played games where we were the target for the majority of the game and could do nothing about repeatedly getting blocked, robbed, and teamed up on.
You simply can't do anything within your power to prevent someone from screwing you over, particularly if the luck of the dice hasn't been on your side. This feeling of helplessness ties back to the game's design and lack of meaningful decisions.
Worse, in a game where you were already losing, it can be incredibly frustrating to watch someone else block your road that you waited three turns to build.
Games to try instead of Settlers of Catan:
Conclusion
There you have it – five of the most overrated board games out there. If you find yourself playing these games over and over on game night, try out one of the alternatives listed. You may just be pleasantly surprised.
Leave a comment letting us know what your picks are for overrated board games.